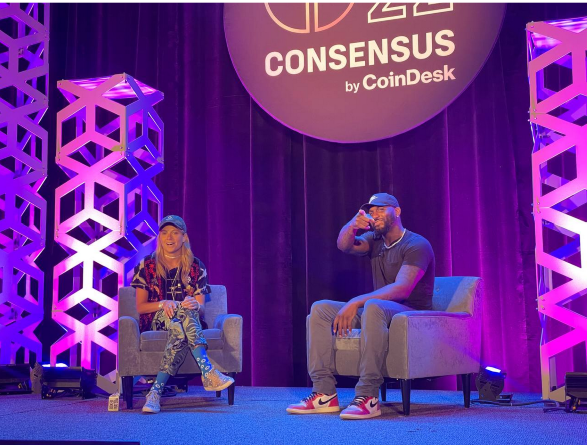 Bear Market? Not for Consensus2022
For the first time in its 7-year history, CoinDesk chose Austin, TX to host its innovation festival known as Consensus. For attendees, the 3.5-day format is an exercise in intentionality; each stage (of which there are several) tends to run on schedule, and some venues are sprinkled around the city. It's advisable to decide beforehand if that must-see, twenty-minute panel is really going to be worth that walk (or Lyft). This year a heatwave enveloped the city, raising temps to over 100° every day; making a mockery of my decision to select a nearby hotel to get some extra daily steps in.
"T

he presence of women on- and off- stage was impressive – we filled panels, ballrooms and bars

"
Self-characterized as the most important digital tech/blockchain event globally, Consensus2022 delivered with names like Edward Snowden, CZ (Changpeng Zhao, Founder and CEO of Binance), Mike Novogratz, and an interesting array of celebrities; along with oddly fun subjects like "Can the Little Guys Win or is  the Game Forever Rigged?" and "Exit Everything".
The deep pockets evident throughout Consensus and associated side events was a sharp juxtaposition to the bear market keenly felt by many. Quietly acknowledged over drinks and private conversations (and the subject of some Consensus sessions), the bear market seemed incongruous with the WAGMI (We Are Gonna Make It) nature of Consensus this year, leaving slightly Las Vegas vibes – you know, a bit surreal.
I headed to Consensus a little pensive, with three plus days of networking ahead of me. This introverted Leo would rather be at home in her castle, but I pushed forward because the rewards of making great connections or accessing invaluable information simply by being in the room is priceless. Consensus afforded all of that and more. Most encouraging was the number, and expertise, of speakers from the African diaspora.
CoinDesk appears to have made a concerted effort to increase the visibility of underrepresented communities onstage (and hopefully within their own ranks). Similarly, the presence of women on- and off- stage was impressive – we filled panels, ballrooms and bars, LOL. At a lavish, Consensus-sponsored mixer for women, I was seated at a table with a young woman from Australia who had come in hopes of finding her tribe. A huge contingent of Australians had arrived for Consensus, but this young dev felt that despite shared origins, they weren't her tribe. Another woman, managing  Shopify's Web3 marketing, took great interest in this dev's story and messaged her counterparts. Minutes later 3-4 team members came up to meet the (now) potential job candidate. Seeing how quickly relationships can develop with immediate and meaningful impact is the lure of Web3 and Consensus provided a platform for that to blossom.
Despite the stellar networking opportunities, a women's chat group that I was in shared stories of demeaning treatment, confirming that Web3 is no panacea itself.
My commitment to learning, making connections, and stepping out of my comfort zone by traveling to Consensus yielded something I couldn't have foreseen – confidence. I'm now more confident that I can forge a lucrative path for myself in Web3 doing what I love!
Author: Noi
Image Info: Lauren Halstead and Dez Bryant at Consensus 2022